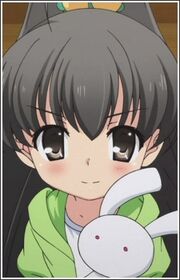 The youngest of the three sisters, Hina Takanashi (小鳥遊 ひな) is 3 years old and attends daycare. She is the biological daughter of Yuri and thus the only one of the three girls who is directly related by blood to Yūta. She is very friendly and unafraid of strangers. She sometimes mispronounces words, often leaving out certain consonants. She normally addresses Yūta as "uncle (Oji-san)", but has trouble with the "j" and "s" sound so it comes out as "Oi-tan" (little uncle). She is a fan of the heroine anime, Luna Luna Seven.
Community content is available under
CC-BY-SA
unless otherwise noted.